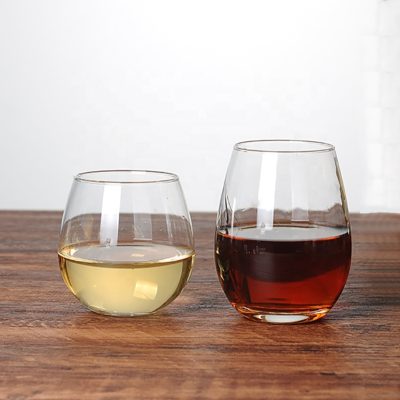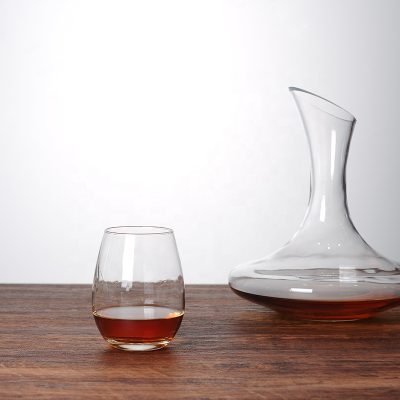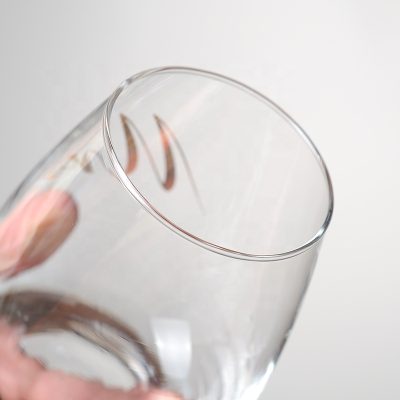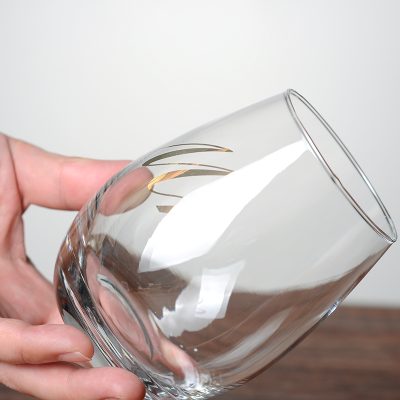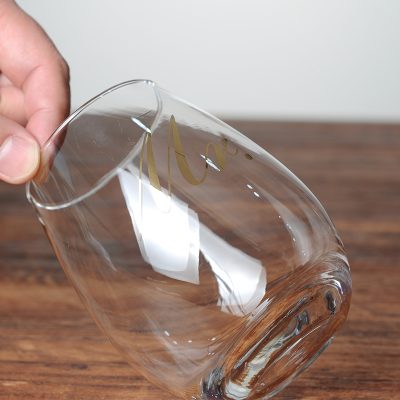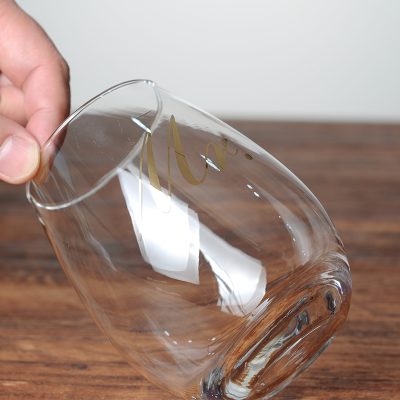 | | |
| --- | --- |
| Product name | Stemless Wine Glasses |
| Material | Lead-free and high-flint sodalime glass |
| Technology | machine made |
| Capacity | 420ml/14oz |
| Size | 80*50*80mm |
| Weight | 500g |
| MOQ | 1pcs |
| Package | 1pcs/box |
| Delivery | 20-30days |
| Payment | T/T, L/C, West Union, PayPal, Credit card |
| Decoration |  logo printing, frosting, sandblasting, hand painting, laser etching, electroplating, color spraying etc. |
Most wines served in American restaurants are served in stemmed glasses, and stemless wine glasses are exactly that: wine glasses without wine glasses. The design of the wine glass is no different from the traditional wine glass, keeping the shape of the traditional wine glass. For those who know or care about pairing wine glasses with the right wine, stemless glasses are available in styles suitable for red and white wine varieties, and like other wine glasses, they come in a variety of qualities, from Inexpensive glassware to delicate crystal. Stemless wine glasses are less likely to break than regular wine glasses. Although stemless wine glasses are in vogue these days, this is not a completely new style of drinking. While the popularity of stemless wine glasses in the American market is new, the concept of stemless glassware has been around for a long time in European countries. Order a glass of wine at a restaurant in Italy and chances are your wine is served in a stemless wine glass, and stemless wine glasses are not just wine glasses without stems, they have benefits too. Most people have had the anxiety of accidentally knocking over a wine glass and breaking it, but a stemless wine glass is not a glass. Even if someone manages to knock it over, it probably won't shatter because it falls just a short distance. Another bonus: stemless glasses fit easily in dishwashers and kitchen cupboards, making them extremely convenient for storage and cleaning regardless of one's budget, preference, or stance on stem or stemless, Wine glasses seem to have a place in both traditional and contemporary markets around the world.
While many of the disadvantages are related to the traditional way of displaying wine, there are also practical issues. Many wines are served at slightly below room temperature, and some wines are served refrigerated. If you hold the bowl of the wine glass in your hand, your hand will heat the wine away from the ideal serving temperature, which will reduce the quality of the wine. Without the stem, there is no other option to hold a wine glass. Stemless wine glasses make the wine glass charm unusable, making it harder to identify your wine glass at large gatherings. Most wine drinkers hold the glass on the stem of the glass during traditional tasting rituals, or even as they drink the wine, and swirl the wine while it aerates it. Holding the bowl for a spin is neither elegant nor practical.